Our Products
Fume Extraction Plant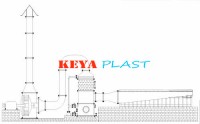 1) It is increasingly recognised that for increased productivity, safety, health of manpower and environment protection is important and vital role is played in manufacturing process.
2) Trun-key execution of system for extraction of corrosive fumes & gases.
3) Fume Extraction Plant Ensure hygienic working atmosphere.
4) Committed to a cleaner environment.
5) High separation efficiencies of 1 micron particulate and gasous emmisions are achievable.
6) Customised process equipment for metal finishing industries.
7) All compoments of our Fume Extraction Plant are made from corrosion-resistant Thermoplastic material.
8) Scrubbing the exhaust air prevents the release of aggressive and harmful vapors into the environment.
9) Vapors and gases are absorbed in the scrubbing liquid and returned to the circuit.
10) The most important basis for calculation are the determination of the exhaust air volume and the dependence of the flue gas burden on the operating conditions in the pre-treatment plant. All the calculations are performed by program modules developed by KEYA PLAST.
11) Effective scrubbing and guaranteed compliance with emission limits can only be achieved through an individually designed fume extraction plant optimized on the particular application.
12) KEYA PLAST Fume Extraction Plants can be used not only in encapsulated pre-treatment plants but also for lateral suction channels on pickling tanks.
13) Performance of KEYA PLAST Fume Extraction Plants in as per emission regulations
14) KEYA PLAST supplies Maximum Achievable Control Technology in compliance to emission regulatory agency requirements.
ADVANTAGES IN FUME EXTRACTION SYSTEMS OF KEYA PLAST
Hot Pickling

Short Pickling Time

Less Pickling Tanks

Increased Productivity

Low Production Cost

Low Rejection

Clean Working Area (Surrounding)

Good Housekeeping.

High Employees Acceptance

Ensures Hygienic Working Atmosphere.

Optimising Material Use.

Stop Corrosion of Crane & Roof Structure.

Better Pickling Quality

Easy Draining of Sludge

Corrosion Resistant

Maintenance Free/Cost Saving

Reliable Welding Seam

Average Tank Life upto 10 Yrs.

Integral Fume Ducting.

Fumes Are Condensed & Recycled.

Reducing Waste Disposal Cost.

As Per Emission Regulations.

Better Safety.
Fume Extraction Plants & Fume Extraction System with PP HDPE Tanks Polypropylene Tank Scrubber
Inquiry