Our Products
Pickling Tanks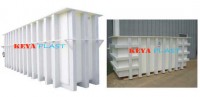 UNIQUE FEATURES:
1) Robust construction with safety features.
2) welded with the state-of-the-art Extrusion welding process imported from Germany.
3) 100 % leak proof.
4) Tank designed on CAD.
5) Tanks have radius bended design.
6) Corrosion free.
7) Environment friendly fume removal System.
8) Inspected & tested with Imported High Voltage tester.
9) Environment friendly design.
10) Corrosion free thermoplastic.
11) Built-in slope.
12) Available with connection like drain / overflow.
13) Repairable.
AVAILABLE CHOICES
Overflow partition

Castor wheel for mobility

Lifting arrangement

Air Agitation System

liquid circulation System

Filtration System

Temperature Measuring System

Legs / Mounting

Top Cover / Lid.

Drain / Overflow connection.

Inlet / Outlet connection.

Coils for Heating / Cooling

Built-in Exhaust Duct Lips

Exhaust and scrubber System

Slope for easy draining

Insulation System

Level Measurement System

Pressurised Construction

Conical bottom

Dished ends

Border

With external reinforcement

Stirring facility

Plastic pipings

Compartment / Partitions.
THE TANKS ARE KNOWN AS
Electroplating Tanks

Circulation Tanks

Treatment Tanks

Passivation Tank

Rinse Tank

Mixing Tank

Etching Tank

Metering Tanks

Process Vessel

Effluent Tank

Stirrer Vessel

Cooling Tanks

Pre & Post Treatment Tanks

Storage Tanks

Pickling Tanks

Fibreglass Tank

Waste Water Tank

Washing Tank

Filter Tank

Developing Tanks

Anodising Tank

Overflow Tank

Heating Tank

Agitation Tank

Spiral Tanks

Chemical Process Tanks

Auxiliary Process Tanks

7 Tank Treatment Plant

Acid Storage Tank

Primary Tank

Secondary Tanks

Dm Water Tank

Reaction Tank / Vessel

Pcb Plating Tanks

Pickling Tank For S. S. Patta

Pickling Tank For S. S. Pipe
Inquiry