Our Products
PP / FRP Equipment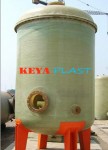 SUCCESS IN MANUFACTURING PP / FRP EQUIPMENTS
KEYA PLAST has introduced innovative engineering design and development in manufacturing of PP / FRP Equipments.
Introduction of radius at corner using full sheet of Thermoplastic for Pickling Tank. Weldless radius provide sound mechanical strength.
Solid all Plastic Tank incorporating massive load support structure for mechanical strength for Galvanizing of heavy weight structure.
PP/HDPE Tanks with integral fume collection ducting for exhaust.
PP/HDPE Tanks with integral Heating System.
Inquiry